JOURNEY BEGINS AT YELLOWKNIFE
The fishing excursion and transporation will begin in Yellowknife, NWT.  Yellowknife is easily accessible from the south with daily scheduled airline flights from either Edmonton Alberta or Calgary, Alberta.
Should you choose to travel by car the Mackenzie Highway is a beautiful scenic route.  Highway driving distance from Edmonton to Yellowknife is about 950 miles.
The Mackenzie Highway is a Canadian highway in the northern Alberta and Northwest Territories.  It begins a s Alberta Highway 2 at Mile Zero in Grimshaw, Alberta.  After the 5.0 km (3.1 miles) it becomes Alberta Highway 35 for the balance of its length through Alberta and then becomes Northwest Territories Highway 1.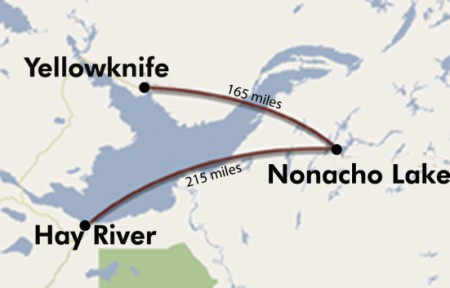 APPROXIMATE AIR MILES TO NONACHO LAKE FISHING CAMP
Approximate Air Miles
| | | | |
| --- | --- | --- | --- |
| Edmonton | 610 | Los Angeles | 1992 |
| Calgary | 780 | Minneapolis | 1390 |
| Winnipeg | 950 | Denver | 1605 |
| Toronto | 1725 | Salt Lake City | 1500 |
| Montreal | 1806 | Chicago | 1707 |
| Vancouver | 998 | New York | 2100 |
NONACHO LAKE FISHING CAMP
Nonacho Lake is a fly-in via float plan only experience.  Sixty miles long and nearly two hundred miles from the nearest highway.
The flight from Yellowknife to Nonacho Lake is made in float-equippped aircraft and your return trip is included in the package price. Nonacho Lake is located 165 air miles east of  Yellowknife.
The float-equipped aircraft, called a Twin Otter, is renown for it's ability to perform in a multitude of environments, providing operators with versatility in a single platform.  When equipped with seaplane or amphibious floats the Twin Otter can reach remote waterfront destinations while  still exhibiting Short Take Off & Landing (STOL) capabilities.
The Twin Otter has been proven worldwide, from the lakes and coastline for the Canadian north to the open water conditions of the Maldives archipelago, and is the aircraft of choice for operations requiring water access.
Your fishing excursion and experience of a lifetime will begin right on the water!