NONACHO LAKE FISHING ADVENTURES ACCOMMODATIONS – YOUR HOME AWAY FROM HOME
There are 6 cabins which provide camping accommodations for parties of various sizes – whether it be just the two of you, your family or a large group.  The cabins have been set back from the sandy beach in order to offer privacy, as well as, a beautiful scenic view of the specular Nonacho Lake.
Each of the cabins are equipped with:
beds ranging from single, double and bunk each with fresh, crisp linen, pillows and sleeping bags

electricity

kitchen is equipped with refrigerator, propane stove with oven, dishes, and utensils.

propane BBQ

wood burning stove – to gather around and tell of those fish stories and about "the one that got away"

two shower houses with hot water complete with fresh towels – for relaxing and enjoying after a day of landing those big fish!
BOATS – FOR YOUR FISHING EXPERIENCE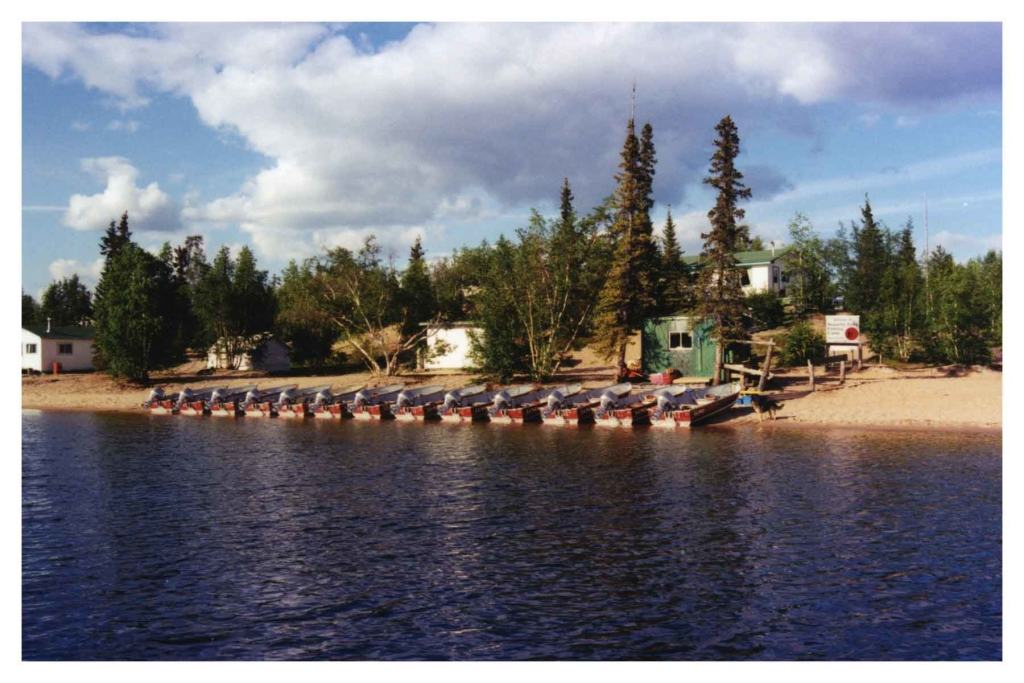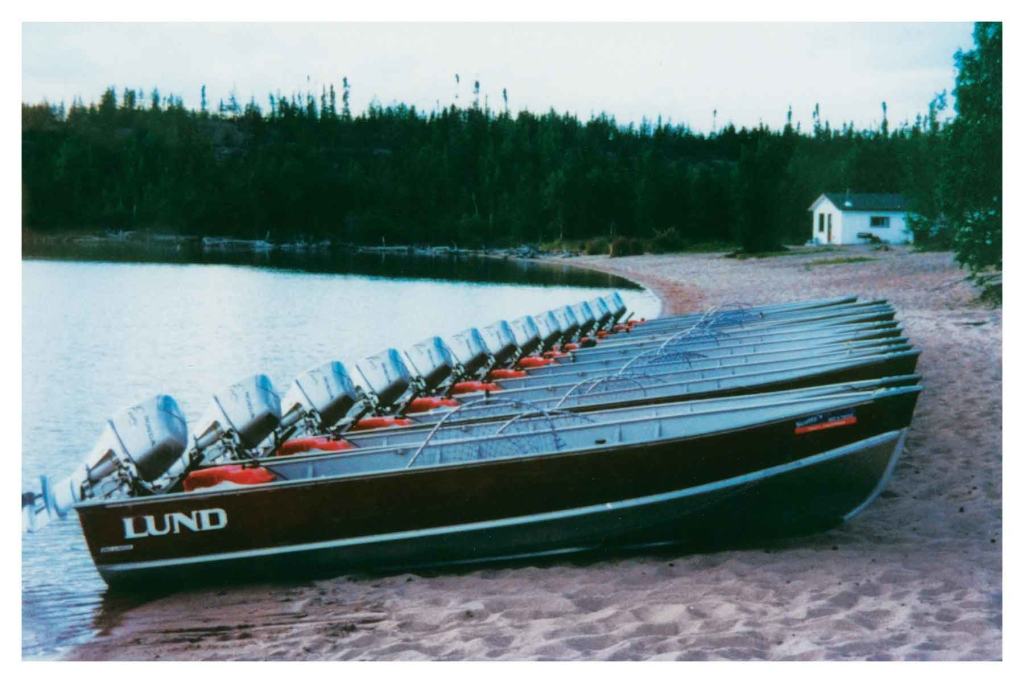 Included in your package price are the use of any one of the 16 foot Lund aluminum boats with fuel and powered by 25 hp Honda 4-stroke outboards.
These well-maintained boats perfectly blend the hard core fishing that fishermen – and women – expect but with the sport aspects that families will enjoy too.
If you like control then you'll love these Lund boats – these well-run engines are for the multi-functional outdoorsmen, or for just a quiet morning on the lake.
Whether you're running in big water or simply sporting around, checking out the many islands and nature with the family or your group you can count on Lund's heavy grade aluminum and superior grading boats.
Be prepared to discover new territory with these boats.
Ask three fishermen how to get ready for a trip and you'll get four answers…
The idea of fishing is simple: fishing gear and boat … and, food and drink!  Whether you're preparing to cast for the day or a five-day float there are a few things you'll need to take along.
Guests supply their own groceries and fishing tackle.  The fishing excursion begins at Yellowknife NWT, a modern city of 18,000+ people and offers every convenience from  grocery stores, fishing equipment shops and liquor stores to souvenirs.  Nonacho Lake Fishing camp does maintain a well stocked convenience store and can provide most things you that you may have forgotten from fishing gear and groceries to liquor and fishing licenses.
No matter what you take to eat when fishing out on the lake, always make sure you are cleaning up after yourself.  Not only will you make sure you haven't left anything behind, but is good for the environment and animals around you as well. Dorito bags are not edible to fish and/or land creatures.
Salads and lighter snacks-like foods would be just that – snacks.  They won't sustain someone who is out fishing for hours.  They can however be extremely refreshing!
Nonacho Lake staff do offer meal catering, if you prefer – just contact us and we'll work with you to make the arrangements.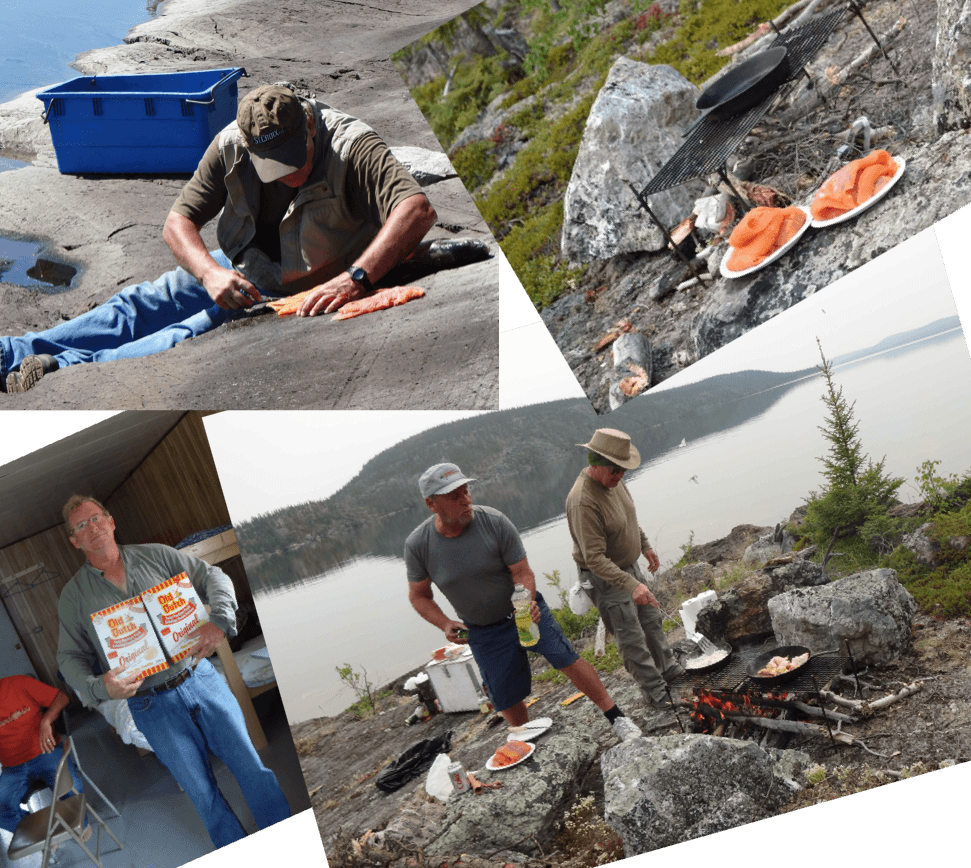 TACKLE
Successful fishermen have found that large – 4-6 inch – daredevils and spoons work the best.  The lake abounds with Lake Trout and it is common to catch fish between 20 and 40 pounds, however the 4-10 pounders are abundant.
The month of June at Nonacho lake offers you 24 hours daylight – and, YES, you can fish 24 hours if you want to. The month of August and September brings some spectacular northern lights displays at night.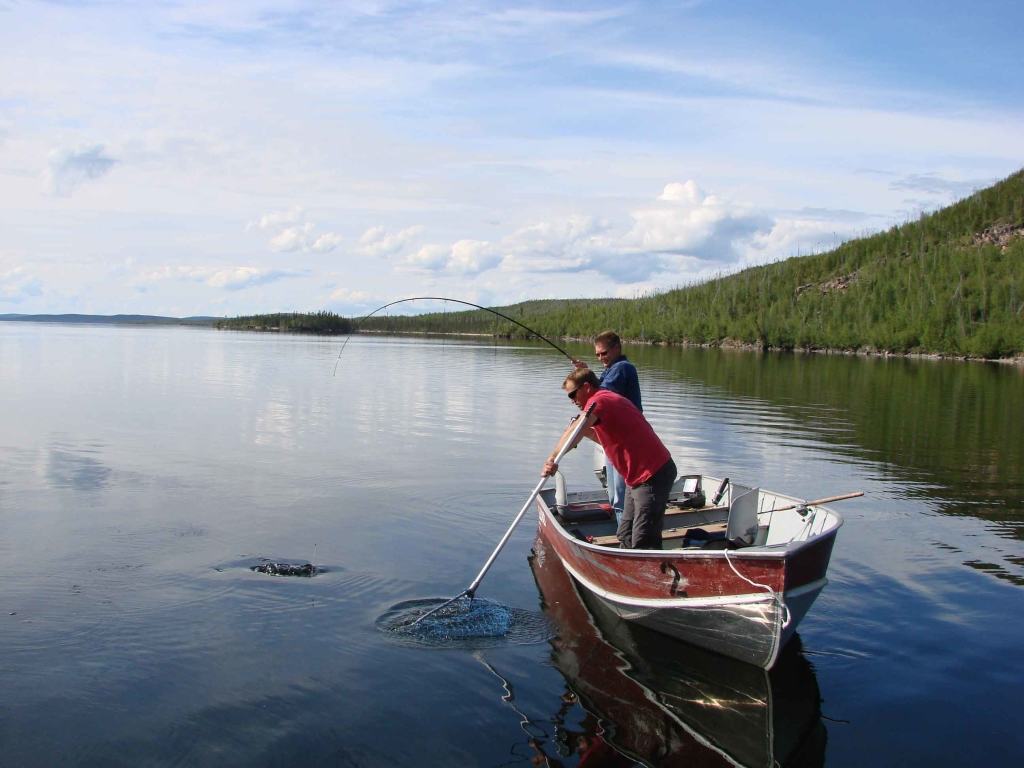 The weather is usually very nice during the summer months and early fall however,  there are a few things are always good to bring along:
a hat and sunscreen to protect you from the sun – yes, the weather is that beautiful!

Polarized sun glasses take away the water's glare and improve water visibility.

a small first aide kit with bug repellent

of course everyone wants a picture of that BIG fish so pack your cell phone in a plastic bag – the water is unforgiving and likes stealing the latest version of Apple's iPhones or, consider a waterproof camera

a set of warm clothes – who can predict the weather?

service your equipment before the trip – bad equipment will ruin your day

a good pair of walking shoes – water shoes are great as wet lake rocks are slippery and sharp, and boat decks can be slick – good footwear can prevent accidents

and MOST IMPORTANTLY, as with all aircrafts, they are limited by weight. The MAXIMUM weight limit  for ALL your luggage is 75 pounds per person